5 Places to Use Keywords on Pinterest
Following on from my post on How to Use Pinterest to Find Keywords, I thought I should probably write about 5 places to use keywords on Pinterest!
Let me start out by saying that, as Pinterest is a search engine, like a more visual Google, it's really important to do your keyword research. Pinterest wants to show your content to people, but it can only do that if you tell it what your content is and what your account is about. This is where your keywords come in. Think of them as the words your ideal client would use to search for you or your content. Pinterest users can search for things and will be shown results by pins, boards or accounts, so you need to cover all these bases.

Using Keywords on Your Pinterest Account
There are a few places you can use keywords on Pinterest. The first one is in your account profile. This tells Pinterest what your account is all about and is a great opportunity for you to add in a keyword or two. It's also searchable, so if you include the correct keywords in here your account will show up in searches.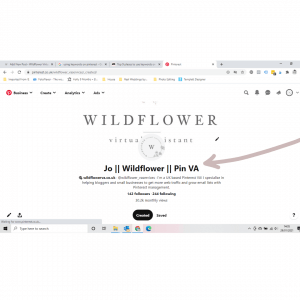 Using Keywords on Your Pinterest Boards
On your Pinterest boards, you can add keywords into the Board Title. Instead of calling a board something like "wedding things I like", get descriptive and make that board more discoverable by using relevant keywords, for example "woodland wedding cakes" or "how to grow your email list using Pinterest". These are the terms that users are more likely to search and will ensure that your content is viewed more often.
You should also be using keywords in your Board Description. You have up to 500 characters available to use here, so make the most of it by writing natural sounding board descriptions that feature some well chosen keywords. Use a mix of niche and long tail keywords to ensure maximum search coverage.
Using Keywords on Your Pins
It's a no brainer, but keywords should be used in your Pin Titles. You have up to 100 characters available but it's usually the first 50 that appear in the search so make these ones count.
Keywords should also be used in your Pin Description. This is a great opportunity to use a mix of niche keywords and long tail keywords. Write them in a natural way – don't go down the keyword stuffing path, because that is not good!
Top tip: add keywords to your text overlay on your pin images. Pinterest is a clever little sausage and can read the wording used on the images you pin. If you add keywords into these, it's an extra place for Pinterest to find them.
I hope this helps! For more tips, why not subscribe to the mailing list or follow Wildflower on Instagram?