How to Set Up A Business Account in Pinterest
Pinterest is an amazing resource for businesses but a lot of small business owners are missing out because they don't have an account! With 440+ million annual users, Pinterest drives 3.8 times more sales than other social media platforms (despite not strictly being a social media platform – it's more a visual search engine). 93% of pinners use Pinterest to plan a future purchase and 87% of users have made a purchase because of Pinterest. 40% of users have a household annual income of $100k+. Can your business afford not to be on Pinterest? If you want to get your business seen on Pinterest, you'll need a Pinterest business account. A business account will give you access to the analytics, allowing you to see what's working and what's not. Here's how to set up a business account in Pinterest.
How to Set Up a Business Account in Pinterest
Your first step is to create an account. If you already have a personal account with boards relevant to your business, you may want to consider changing your personal account over to a business one. You can quickly convert your personal account to a business one by heading over to your Settings, then going to Account Settings. Click Get Started next to Convert to Business Account. Click Switch to Business. You'll now be able to access those all important analytics!
If you don't have a personal account, or want a standalone business account, it's easy to make a new account. Head to Pinterest and click on Sign Up.
Fill in your email, password and your age and click "Create Account".
Add in your business or brand name, your website if you have one and check your country and language are correct. Click Next.
Choose the category that best fits your brand or business.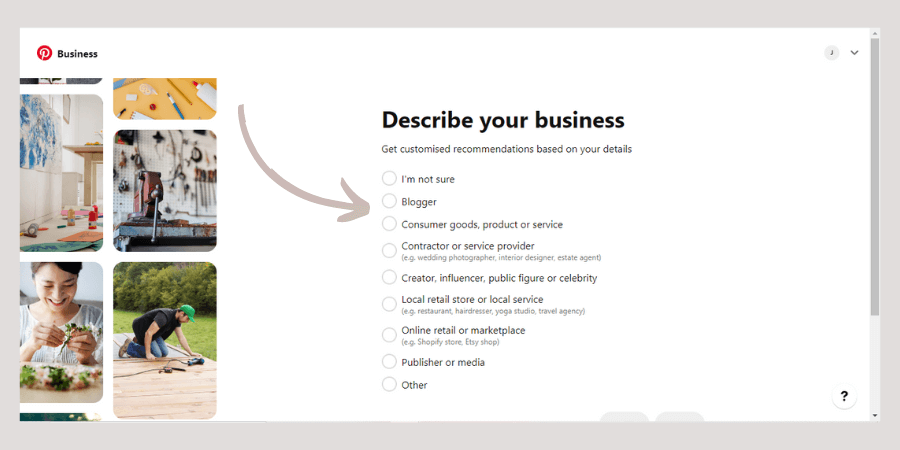 Choose your business or brand type.
I always say I'm not sure when it comes to advertising on Pinterest. I think you can get amazing results with just organic growth, however I know paid advertising can work really well. Choose the option that works best for you and your business.
Head down to Showcase your Brand, and click on Build your Profile. Here you'll be taken to another screen where you can add in all your profile details.
Add in all your profile details. Add in your logo or a professional head shot of yourself. Don't use a photo from a night out ten years ago – it needs to look professional if this is for business! Choose a display name that fits your business and include a keyword if possible. Unfortunately Pinterest won't let you add the word Pinterest, so I'm a Pin VA on there! Add a user name that fits your business or brand. In your profile, add in a description of your business with keywords if you can, as this is searchable. When you search for people on Pinterest, this is where it gets the information from, so make sure you are as discoverable as you can be.

Make sure you claim all your related websites as well. You can claim your blog or website, Instagram account, Etsy store and You Tube channel. This way you can see the stats for pins from those linked accounts, and see how well they're performing.
Now you've got your account set up, you need some boards and pins! Create boards with names relevant to your business e.g. How to Use Pinterest for Blogging, How to Use Pinterest for Business etc. Top tip: think of how your ideal client would search for you, and the words they would use. Populate these boards with your relevant pins, and you're good to go!
Remember Pinterest is a search engine, so it takes time for the algorithm to categorise and index your content. If your account is new it could take up to three weeks for it to show in the searches, and it can take up to 30 days for Pinterest to index your pins. It's a slow burn, but it's evergreen, and once it starts gaining traction you'll see your numbers start to grow and your web traffic will increase. Consistency is key to growth. Now you know how to set up Pinterest for business, you can work on everything else.
I hope this helps, and if you need assistance with your Pinterest strategy or pinning, please get in touch!